Bring fitness to your life!
Fitness requires the regular practice of exercise that leaves you feeling good about your body, its strength, resilience, flexibility and power to improve, and keeps you wanting to come back for more.
Yoga combines strength training, toning, postural exercises, stretching, balance and relaxation. It caters to all types of clientele, from 2 to 92, for both women and men. The benefits are both physical and psychological. The ability to concentrate you develop through the practice of yoga will benefit you in your job and the regular practice of deep breathing and relaxation allows your body to recharge its energy levels and make you more productive and calmer. The stretching exercises release stress while making you less likely to develop injuries. The strength and endurance you develop leave you feeling great and fit.
Any type of strength training can improve bone density and musculature.
Core training will also help you maintain good posture and reduce your risks for back aches.
Aerobics are great for improving circulation and reducing blood pressure which are both great for your general health.
A certified yoga specialist with East to West yoga since 2002, a certified fitness instructor with the YMCA since 1998, Josey brings fitness to your work place or to your home.
Josey has always had an interest in fitness.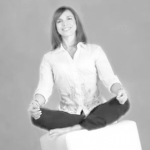 She began with figure skating at the age of 5 and continued with ballet and gymnastics, swim team, competing for 5 years in her home town of Baie-Comeau, discovering aerobics at the age of 18.
Josey was an enthusiastic aerobics participant for 10 years before deciding to become an instructor. Now a YMCA and Can Fit Pro certified instructor, Josey teaches a variety of classes including aerobics, step, boxing, and body shaping. Her enthusiastic attitude is front and center in all the classes she teaches.
In 2000, she went through a very emotional year. The birth of her first daughter in February, her job of 10 years being abolished in May, culminating with the announcement that her 9 month old baby had cancer in November. Practicing yoga helped her to cope with the turmoil she was dealing with and to stay rooted to what is important in life and guided her into becoming a yoga instructor.
Josey certified as a yoga instructor in 2002 with East and West Yoga.
In 2004, her daughter had a relapse. While going through chemotherapy and radiotherapy for a second time, she and Josey practiced relaxation techniques and yoga breathing which helped them through difficult times. Seeing the positive outcomes and her daughter's response to relaxation and breathing techniques, Josey decided to certify in kids yoga in 2006.
'Continuing to teach while my daughter was sick helped me help her. Being able to focus on my breathing and push all thoughts away really helped me go through that difficult time of my life. It was not easy to do but if I was able to clear my head for 5 or 10 minutes a day, it was 5 or 10 minutes during which I did not think about what was happening to my daughter'
Josey registered her company 'Josey Yoga & Fitness' in 2007. She teaches in corporations, schools, daycares and fitness centres. She also started her own classes in Roxboro and Vaudreuil-Dorion. She attends workshops and seminars on a regular basis to continue to improve her knowledge and education. Josey takes the time to explain to her students how to get into the positions. She will demonstrate and walk the class making adjustments when necessary. She helps her students respect their own limits and to go further when they can.
Her dream is to one day own her own yoga studio and continue to share the joy and benefits of yoga.